VARIOUS ARTISTS - SWEDEN ROCK FESTIVAL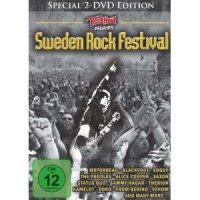 Label:
FASTBALL
Jahr:
2010
Running Time:
240:00
Kategorie:
Neuerscheinung

---
Das Schweden Rock Festival ist das Pendant zum Wacken Festival, halt nur in Sölvesborg. Seit dem Start im Jahr 1992 wuchs es zu einem Vier-Tage-Event an und erfreut sich jährlich wachsender Begeisterung. Ich hatte die Freude in den Jahren 2004 und 2005. Unvergesslich die Auftritte vieler Stars, groß und klein. Nun hat man sich die Zeit genommen eine DVD von zwei Jahren (2005 und 2006) auf die Beine zu stellen. Die Highlights wie man sagt! Genau, oder die Bands die man filmen durfte. Und warum man konstant die Auftritte von Bands aus beiden Jahren konsequent durcheinander wirft erklärt sich auch nicht. Wie dem auch sei, so manche coole und tolle Erinnerung wird mit diesem Filmmaterial wach gerufen. Und abgesehen davon tummeln sich tatsächlich einige fette Namen auf der Spielliste. Um der nachfrage des Namedropping entgegenzukommen habe ich gleich unter dem Text alle Mitwirkenden aufgelistet. Was soll man noch großartig sagen? Der Sound ist angemessen, die Kameraführung so manches Mal nicht gerade vernünftig aber man hatte wohl auch ein paar Lehrlinge bei den kleineren Acts am Start. Das Bonusmaterial hätte ich mir auch anders vorgestellt. Vielleicht Interviews mit Veranstaltern, Fans und beteiligten Bands, vielleicht eine Festival-Historie. Aber nein. Das Label erlaubt sich die Bands aus dem eigenen Stall mit dem aktuellsten Video zu präsentieren. Von mir aus. Zumindest sind meine Freunde von Tri State Corner, Human Zoo und Pump dabei. Hier gibt es tatsächlich noch manches Leckerli zu entdecken. Einfach mal ein Auge riskieren.
DVD 1
1.     The Poodles - Kingdom Of Heaven
2.     Lana Lane - Someone To Believe
3.     Kamelot - March Of Mephisto
4.     Edguy - Superheroes
5.     Treat - Conspiracy
6.     Crystal Eyes - The Wizards Apprentice
7.     Diamond Head - Am I Evil
8.     Helix - Rock You
9.     Doro - You're My Family
10.  Saxon - And The Bands Played On
11.  Morgana Lefay - Maleficium
12.  Rob Rock - Rock The Earth
13.  Sabaton - Primo Victoria
14.  Candlemass - Black Dwarf
15.  Therion - Ginnungagap
16.  Behemoth - Demigod
17.  Satanic Slaughter - Towards Damnations End
18.  Venom - Black Metal
19.  Motörhead - Bomber
20.  Motörhead - Overkill
DVD 2
1.     From Behind - Queen Bitch
2.     Nasty Idols - Alive n' Kickin'
3.     Freak Kitchen - Speak When Spoken To
4.     The Lizards - The Opal Crest Of Zed
5.     Blackfoot - Sunshine Again
6.     Crucified Barbara - Bad Hangover
7.     Alex Harvey Band - Midnight Moses
8.     Hellfueled - Midnight Lady
9.     Kim Mitchell - Fill Your Head With Rock
10.  Savoy Brown - Savoy Brown Boogie
11.  Molly Hatchet - Son of the South
12.  Robin Trower - Day Of The Eagle
13.  Ted Nugent - Cat Scratch Fever
14.  Vixen - Edge Of A Broken Heart
15.  Sammy Hagar - I Can't Drive 55
16.  Status Quo - Caroline
17.  Magnum - Vigilante
18.  The Sweet - Teenage Rampage
19.  Alice Cooper – School's Out
incl.  Bonus Videos:

Tri State Corner - Ela Na This
Zoo Army - Broken (live)
Vivian - Rebound
Jimmy Martin feat. Rick Springfield - Love Somebody
Tempesta - The Way It Is
Eigensinn - Eiskalt (Preview Version)
Human Zoo - Taste Like Sugar
Fairytale - Neverland (live)
The Boyscout feat. Robin Beck - Hey ... I Love You
Bonafide - Loud Band
Defuse - D.I.B.
Pump - Ready, Aim And Fire
White Pulp - Run Into
Mystigma - Visions Incomplete
Maxxwell - Bad To The Bone
Descendants Of Cain - Break Down
Whispers In The Shadow - Blood, Sweat & Tears
[DIE!] - Jeder mit jedem
Note: 8.5 von 10 Punkten
Autor: Steve Burdelak