Aktuelle News
POP EVIL live 2019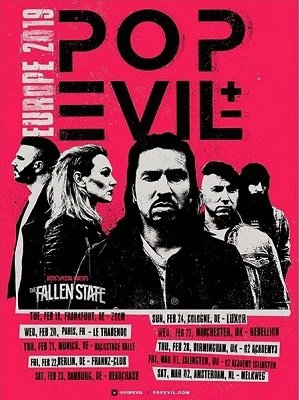 Pop Evil ist eine US-amerikanische Post Grunge aus Grand Rapids, Michigan. Dabei orientiert sich Pop Evil an anderen modernen Rockbands, zum Beispiel Crossfade, Shinedown und Puddle of Mudd, aber auch an Soundgarden und Pearl Jam. Im Rahmen eines Konzertes im März 2009 gab die Band bekannt, das sie einen Vertrag mit Universal Records abgeschlossen hat. Im Juli und August 2009 tourten Pop Evil mit Whitesnake auf der Jubiläumstour von Judas Priest durch Nordamerika.Im Juni 2010 gab die Band bekannt, dass für das zweite Studioalbum War of Angels Produzent Johnny K (3 Doors Down, Staind, Disturbed) verpflichtet werden konnte. Pop Evilunterschrieben einen neuen Vertrag bei eOne Music. Neben einigen Tourneen als Support von Papa Roach, Finger Eleven, Theory of a Deadman und Puddle of Mudd spielte die Bands erstmals auch Headliner-Shows in Nordamerika. Die dritte Single, Boss's Daughter, wurde im Januar 2012 veröffentlicht. Als Gastmusiker übernahm Mick Mars von Mötley Crüe die Gitarrenparts. Während sich das Album auf Platz 43 erstmals in den offiziellen Albumcharts platzieren konnte, erreichten die ersten drei Singles alle die Top Ten der Mainstream-Rockcharts. In den Hard Rock-Charts erreichte War of Angels auf Anhieb die Spitzenposition. Infolgedessen tourte die Band erstmals auch außerhalb der Vereinigten Staaten: In Kanada (als Support von Black Label Society) und in Schweden (mit Seether).Am 28. Februar 2013 veröffentlichte die Band die Single Trenches. Sie war der Vorbote des dritten Studioalbums Onyx. Die Single erreichte im Juni Platz 1 der Mainstream-Rockcharts, hielt sich dort einen Monat lang und wurde zur erfolgreichsten Rocksingle des Jahres. Im Februar 2014 unterzeichnete die Band einen Vertrag mit Eleven Seven Music, der die Distribution der Alben und Singles nach Europa regelte. Ebenso sorgte dieser Vertrag für die erste Europa-Tournee: Als Support von Five Finger Death Punch spielte man unter anderem Shows in Großbritannien, Deutschland und den Niederlanden. Die folgenden Alben "UP" und der aktuelle Longplayer "Pop Evil" erreichten ebenfalls Chartpositionen. Und nun sind sie endlich wieder auf Tour in Europa, bereit die Bühnen hier extrem zu rocken. Besorgt euch schnell euer Ticket, bevor es jemand anderes tut.
Tour Daten:               
FRANKFURT A.M. - Zoom - Di 19.02.2019                       
MÜNCHEN - Backstage Club - Do 21.02.2019
BERLIN - Frannz Club - Fr 22.02.2019
HAMBURG - Headcrash - Sa 23.02.2019
KÖLN - Luxor - So 24.02.2019
---
BLUE RUIN live 2019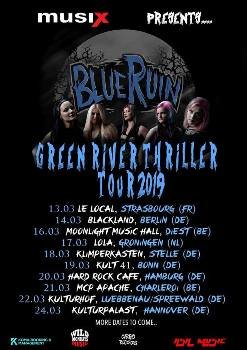 Die Allgirl-Band BLUE RUIN bringen ihre Mischung aus Punk und Hardrock auf europäische Bühnen, u.a. in Deutschland in Berlin, Hannover, Bonn und Hamburg.
Ende 2018 erschien ihr neues Album "Green River Thriller" über RSR / Cargo und nun kann das Material endlich live bestaunt werden. Hier sind die ersten Dates:
14.03.2019 (DEU) Berlin, Blackland
16.03.2019 (BEL) Diest Moonlight Music Hall
17.03.2019 (NLD) Groningen, Lola
18.03.2019 (DEU) Stelle, Klimperkasten
19.03.2019 (DEU) Bonn, Kult41
20.03.2019 (DEU) Hamburg, Hard Rock Cafe
21.03.2019 (BEL) Charleroi, MCP Apache
22.03.2019 (DEU) Luebbenau/Spreewald, Kulturhof
24.03.2019 (DEU) Hannover, Kulturpalast
Ihr neustes Video zu 'Exist':  https://youtu.be/pJqatMzX7bU
'Green River Thriller' Video: https://youtu.be/C7tHXhDS1d0
---
THE DARK TENOR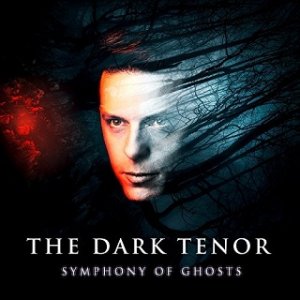 The Dark Tenor – ab 18.01. auf großer "Symphony Of Ghosts" Tour – "I Miss You" Livevideo jetzt online
ab Januar 2019 geht The Dark Tenor auf große "Symphony Of Ghosts" Tour. Mit seinem dritten Album lädt The Dark Tenor zu einem Besuch in eine geheimnisvolle Welt ein, um sich von einer neuen Seite zu präsentieren. Zum dritten Mal öffnet der Künstler die Pforten zu seinem Reich. Schon auf dem Gold-veredelten Debütalbum "Symphony Of Light" faszinierte er 2015 mit seinem außergewöhnlichen Crossover aus Klassik und Pop. Ein atmosphärischer Mix, den er auf seinem 2016 erschienenen Nachfolger "Nightfall Symphony" noch weiter verfeinerte und parallel mit der Aktion #klassikistgeil ein neues junges Publikum für die klassische Musik begeisterte. Auf "Symphony Of Ghosts" setzt The Dark Tenor seine Mission auf überraschende Weise fort: Nachdem das ehemals maskierte Phantom mit jedem Album ein wenig mehr von sich preisgab, lüftet der ausgebildete Opernsänger nun vollständig seine Maske, um sich seinen Fans unverschleiert zu offenbaren. Sein persönliches Bekenntnis zu sich selbst, das sich auch innerhalb seiner Musik widerspiegelt; eine Art von Selbstreinigungs- und Reifeprozess, bei dem sich The Dark Tenor der Vergangenheit stellt, um so ein neues Kapitel in seinem Schaffen beginnen zu können.
"I Miss You (Live from Berlin, 2018)" Video: https://www.youtube.com/watch?v=Tzgsk3Dec5k
Das "I Miss You" Video wurde während des Konzerts der "Unheilig & The Dark Tenor auf Zeitreise Tour 2018″ in der Berliner Columbiahalle gedreht. "I Miss You" stellt eine Hommage an den Titel "Children" von Robert Miles dar und hat laut The Dark Tenor eine sehr emotionale Bedeutung: "Es geht in meinem Text zum Song darum, einen geliebten Menschen immer im Herzen zu tragen, so weit er auch entfernt sein mag. Sehnsucht ist eines der stärksten Gefühle überhaupt. "I Miss You" ist für mich eine der schönsten Liebeserklärungen, die man jemandem machen kann."
The Dark Tenor zur Entstehungsgeschichte von "Symphony Of Ghosts" :
"Wir werden von den Erfahrungen geprägt, die wir während unseres Lebens machen. Erfahrungen, die sich in Form von Erinnerungen manifestieren – unsere Persönlichkeit ausmachen. Sie sind wie Schemen aus anderen Zeiten: bei einem bekannten Geruch, einem Geschmack auf der Zunge, bei einem schwachen Geräusch in der Ferne oder einer Melodie. Ich habe mich in letzter Zeit oft mit den Dingen beschäftigt, die in meinem Leben passiert sind. Mir ist wichtig, auch negative Erlebnisse zu verarbeiten und mich diesen Geistern zu stellen. Manche sind freundlich und liebenswert, andere furchterregend. Je stärker man diese Geister der Vergangenheit verdrängt, desto schneller holen sie einen ein und desto mehr Macht gewinnen sie über dich. Jeder Geist besitzt eine andere Aura – je nachdem, mit welchen Emotionen er verbunden ist und wie stark die Erinnerung noch ist. Irgendwann fließen all diese Farben zu einer einzigen großen Symphonie zusammen."
Im nächsten Jahr wird The Dark Tenor seine "Symphony Of Ghosts" auf die Bühne bringen. Vom 18. Janaur bis zum 23. Februar wird er live in Deutschland, Österreich und der Schweiz zu erleben sein.
TOURDATEN:
18.01.19 | Berlin, Columbiahalle
19.01.19 | Leipzig, Haus Auensee
20.01.19 | Magdeburg, AMO
23.01.19 | Frankfurt, Batschkapp
24.01.19 | Würzburg, Posthalle
25.01.19 | München, Backstage
26.01.19 | Köln, Live Music Hall
01.02.19 | Hannover, Capitol
02.02.19 | Erfurt, Alte Oper
07.02.19 | Stuttgart, Wizemann
08.02.19 | CH-Zürich, Theater Spirgarten
09.02.19 | Kaiserslautern, Kammgarn
15.02.19 | Dresden, Schlachthof
16.02.19 | A-Wien, Szene
21.02.19 | Dortmund, FZW
22.02.19 | Bielefeld, Ringlokschuppen
23.02.19 | Hamburg, Große Freiheit
---
CROSSFIRE präsentiert!!! Live in Duisburg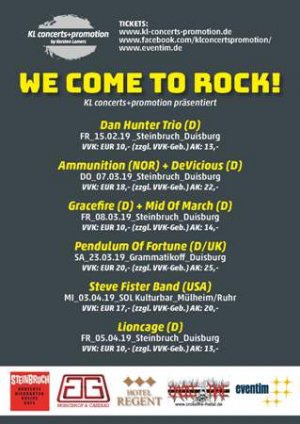 ---
DRACONIAN on Tour!!!
---
ROCKHARZ OPEN AIR 2019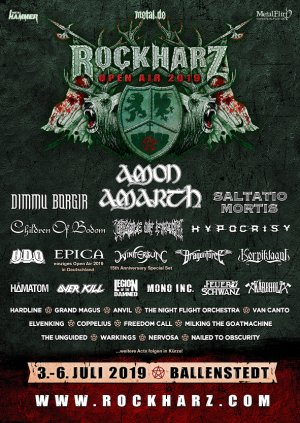 ---
WEIHNACHTSVERLOSUNG!!!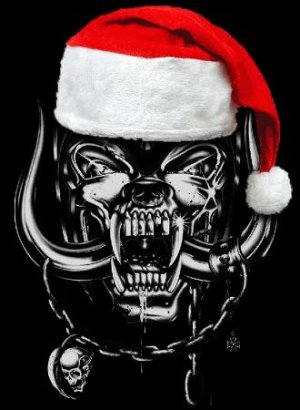 Wie in jedem Jahr, verlosen wir, mit der Unterstüzung unserer Partner, jede Menge cooles Material. Vielen Dank an alle die uns etwas für euch unter den Redaktionsbaum gelegt haben. Ich habe alle verlinkt, also schaut mal ordentlich nach, was man sonst noch zu bieten hat. Wer etwas gewinnen möchte, der schreibe bitte ein Email an die Adresse im Impressum der Homepage. Am besten gleich mehrere Wünsche und Adresse nicht vergessen. Diese Verlosung ist bis zum 05.01.2019 gültig.
An dieser Stelle auch fröhliche Weihnachten und eine n guten Rutsch ins neue Jahr an alle Leser, Promoter, Plattenfirmen und Musiker.
Merry X-mas & a happy New Year 2019, to all readers, promoters, labels & musicians.
CMM GmbH - https://www.cmm-marketing.com/
01. Küenring T-Shirt, Größe S
02. Whooopwhooop T-Sirt, Größe L
03. Küenring – Same, CD
04. Jen Majura – InZenity, CD
05. Art Against Agony, CD
06. Architects, 3x Bierdeckel
STF Records - https://www.stf-records.de/
01. Barons Ball – Push, CD
02. Dark Zodiac – See You In Hell, CD
03. Adrenaline 101- Twelve Step Program, CD
04. Solar Olexus – Niemandsland, CD
OKTOBER Promotion - http://oktoberpromotion.com/
01. Metallica – Damaged Justice, Aufnäher
02. Metallica – Live At Festival Hall, Tape
03. Soen – Lykaia (Revisited), CD
04. Suicidal Tendencies – Still Cyco Punk After All Those Years, CD
SURE SHOT WORX - http://www.sureshotworx.de/
01. Cameltoe – Up Your Alley, 2x CD
02. Tomorrow´s Outlook – A Voice Unheard, 2x CD
03. Acarash – In Chaos Becrowned, 2x CD
04. Aggression –Feels Like Punk, Sounds Like Thrash, CD
05. Syn Ze Sase Tri – Zaul Mos, CD
06. King Goat – Debt Of Aeons, CD
07. Atomwinter – Catacombs
PRIDE & JOY - https://www.prideandjoy.de/
01. Black Majesty, 14x Promo-Postkarte
02. Prins Svart – Same, 2x CD
03. Riddlemaster – Bring The Magik Down, 2x CD
04. Johan Kihlber´s Impera – Age Of Discovery, 2x CD
05. Jessica Wolf – Grounded, 2x CD
06. Black Majesty – Children Of The Abyss, CD
07. Lioncage – Turn Back Time, CD
08. Eunomia – The Chronicles Of Eunomia Part 1, CD
09. The Radio Sun – Beautiful Strange, CD
10. Nimrod B.C. – God Of War And Chaos, 2x CD
CENTURY MEDIA - https://www.centurymedia.com/
01. Sick Of It All, 3x Poster
02. Aborted, T-Shirt (M)
03. Vitja, T-Shirt (S)
04. Sick Of It All, 2x Schlüsselanhänger
05. Sanctuary, 5x Aufnäher
06. Deicide, 2x Sticker
07. Krisiun, 2x Sticker
08. Aborted, 2x Sticker
7 HARD - http://www.7hard.de/
01. No Rules – Never Give Up, CD
02. 3rd Grade Burn – Welcome To My Wasteland, CD
03. Hatedotcom – Dissociative, CD
04. Dark Violence – Middle Of Nowhere, CD
05. Liar Thief Bandit – Straight Ahead, CD
06. Maggies´s Madness – Pushed To The Limit, CD
07. Kaisers Bart – Meisterstück, CD
08. Tigersclaw – Princess Of The Dark, CD
09. Agonizer – Visions Of The Blind, CD
10. Bad Image Company – Dirty Grunchez, CD
11. Bewized – Ad Astra, CD
12. Burn Down Eden – Ruins Of Oblivion, CD
13. Bellgrave – Panzerherz, CD
14. Dark Lambency – Spectra, CD
15. Cruadalach – Raised By Wolvey, CD
16. Days Of Grace – Locos
17. Dirty Age – Plug In, CD
18. Illusoria – King, CD
19. Le Rock – Schwarz/Weiß, CD
20. Silver Horses – Tick, CD
21. Set To Revolt – R.Evolution Now!, CD
22. The Senton Bombs – Mass Vendetta, CD
23. Astral Path – Ashes Dancer, CD
24. In Somnia – Withered, Frozen, Perished, CD
25. Paola Pellegrini Lexrock – Lady To Rock, CD
26. Noah Veil And The Dogs Of Heaven – Forever Immortal, CD
27. Acid Death – Hall Of Mirrors, CD
28. Creeon – Help, CD
XENOKORP - http://www.xenokorp.com/
01. Atara & Miserable Failure – Hang Them, 5x CD
02. Skinned – 5x Sticker
BLACK PIKE FAVORITES - https://blackpikefavorites.com/
01. Slam & Howie And The Reserve Men – Firewater, 2x CD
02. Vaudeville Etiquette – Diversions, CD
03. Mo Lowda & The Humble, CD
04. Band Of Rascals, 2x CD
GORDEON MUSIC - http://www.gordeonmusic.de/
01. Midriff – Decisions, 2x CD
02. An Assful Of Love – Monkey Madness, 2x CD
03. Nick Oliveri – N.O. Hits At All, Vol. 4 – 2x CD
04. Loz Tinitoz – Kamikazekatze, 2x CD
05. Godslve – Reborn Again, 2x CD
06. Eradicator – Into Oblivion, 2x CD
07. I Wear* Experiment – Patience, 2x CD
08. Duel – Live At The Electric Church, 2x CD
09. Coldside – Fuck Your System, 2x CD
10. Various Artists – Heavy Psych Sounds Records, Volume II, 2x CD
11. Dynamite – Big Bang, CD
12. Summer Crowd Stereo – Parallels And Meridians, 2x CD
13. Josh Pike – The Best Of Josh Pyke, 2x CD
14. Rude Pride – Take It As It Comes, 2x CD
15. Übergang – Zeichen Der Zeit, 2x CD
16. Voga – Closer, 2x CD
NUCLEAR BLAST - https://www.nuclearblast.de
01. Monsters Of Metal – The Ultimate Metal Compilation – Vol. 10, 2x Blu-Ray / DVD Digibook
02. Your Music Your Life – A Collection Of Our Most Essential Music Videos, 2x Blu-Ray
03. Blues Pills – High Class Woman, 2x CD
04. Your Music Your Live, T-Shirt (M)
05. Nuclear Blast Logo, T-Shirt (XL)
06. Nuclear Blast Kalender - Poster
07. Madsen - Poster
08. Loathe - Poster
09. Emmure – Poster
10. Amorphis – Poster
11. Graveyard – Poster
12. Phil Campbell And The Bastard Sons – 2x Poster
13. Miss May I – Poster
14. Don Broco – Poster
15. Ministry – Poster
16. Michael Schenker Fest – Poster
17. Sink The Ship – Poster
18. Therion – Poster
19. Nightwish – Poster
20. Opeth – Poster
21. The Legacy Of Shi – Poster
22. Soulfly – Poster
23. Metal Church – Poster
24. Gotthard – Poster
25. Accept – Poster
26. Immortal – Poster
27. Dimmu Borgir – Poster
28. Korpiklaani – Poster
29. Betontod – Poster
EL PUERTO RECORDS - https://www.el-puerto-records.com/
01. The Phans - Same, CD
02. Bloodlost – Diary Of Death, CD
03. Sainted Sinners – Back With A Vengeance, CD
04. Necronomikon – Unleashed Bastards, CD
05. Ginger Red – Donuts And Coffee, CD
PURE STEEL - https://www.puresteel-records.com/
01. Various Artists – Pure Steel Records – Visual Diamonds, DVD
02. Steel Prophet, 2x Patches
03. Weapon X – Rising From The Ashes, CD
04. Wretch – Reborn, CD
05. Necrytis – Dread En Ruin, CD
06. Shelton / Chastain – The Edge Of Sanity, CD
FINEST NOISE - http://www.finestnoise.de/
01. Mein Kopf Ist ein Brutaler Ort – Selbstmitleidkultur, 3x CD
02. The Howling Muffs – Genuine, 4x CD
03. Véronique De La Chanson – Wolken Zucker Himmel, 5x CD
04. Mutz & The Lurking Extras – Same, 4x CD
05. Erstausgabe – Geschichten Vom Bordstein, 5x CD
06. Friday And The Fool – Weltuntergang, 2x CD
07. Bernd Rinser RootsRock – Split Pea Shell, 3x CD
08. Suns Of Orenda – Dark Light, 3x CD
09. Kw!rl – Wir Kommen In Frieden, 4x CD
10. Gastophon – Irgendwas Ist Immer, 8x CD
11. The Finest Noise – Der Sampler Vol. 34, 7x CD
12. The Finest Noise – Der Sampler Vol. 36, 8x CD
13. Wayfarers – Rebels Of The Jukebox, 5x CD
14. Ben Granfelt – My Soul To You, 3x CD
15. Sitka – Zugvögel, 6x CD
16. The Magnettes – Ugly Youth, 8x CD
17. Voltron – Collapsar, 3x CD
18. Acoustic Garden – Concept Emotional, 3x CD
19. Chango – 14 Dag Extra, CD
STEAMHAMMER / SPV - http://www.spv.de
01. Kreatot – Enemy Of God, LP
02. Mob Rules – T-Shirt, XL
03. The Unity – T-Shirt, M
04. The Unity – Flagge
05. Evergrey – Live – A Night To Remember, CD
06. Black Trip – Goin´ Under, CD
07. Monster Magnet – Monolithic Baby!, CD & Bonus-DVD
08. Iced Earth – Framing Armageddon – Something Wicked, Part 1, CD
09. Whitesnake – Good To Be Bad, CD
CMM – CONSULTING FOR MUSIC AND MEDIA - http://cmm-online.de/
01. Lesoir –Latitude, CD
02. Pinski – Sound The Alarm, CD
03. Various Artists – 30 Years Of Decadence, CD
04. Various Artists – 10 Years Of Kscope, CD
05. Aaron Brooks – Homunculus, CD
06. Mother – Danzig Tribute, Sticker
07. Frequency Drift – Letters To Maro, CD
08. Panzerballett – X-mas Death Jazz, CD
09. ASP – Prespera Ad Aspera, CD
BOB-MEDIA - https://www.facebook.com/BOBMEDIA/
01. Sweden Rock Festival, 2x DVD
02. Mind Of Doll – Low Life Heroes, 2x CD
03. Magical Heart – Another Wonderland, 2x CD
04. Defuse – Same, 2x CD
05. Defuse – Bangkok Addiction, 2x CD
06. Draven – Mirror, 2x CD
07. Solitude – Brave The Storm, 2x CD
08. Rocketchief – Rise Of The Machine, 2x CD
09. Mirrorplain – Path Of Salvation, CD
10. Science Of Disorder – Private Hell, CD
11. Inner Axis – We Live By The Steel, CD
12. Steorrah – The Altstadt Abyss, CD
13. Project: Midnight – The First Encounter, CD
14. Me Against The World – Breaking Apart, CD
HEAD OF PR - http://www.headofpr.com/
01. Steve Rothery Band – Live in Rome, CD/DVD
02. Unitopia – More Than A Dream – The Dream Complete, CD
03. Nailed To Obscurity – King Delusion, CD
04. The Tangent – A Spark In The Eather, Special CD
05. Tuesday The Sky – Drift, CD
06. Engel – Abandon All Hope, CD
07. Black Veil Brides – Vale, CD
08. We Sell The Dead – Heaven Doesn´t Want You And Hell Is Full, CD
09. Knifeworld – Bottled Out Of Eden, CD
10. Rooney – Washed Away, CD
11. Rikard Sjöblom´s Gungfly – On Her Journey To The Sun – Ltd. Ed., CD
VOLLKONTAKT - https://www.vollkontakt.com/
01.Victoria – Weihnachts-Special: Fest Der Liebe (Film), 2x DVD
ULTERIUM RECORDS - http://ulterium-records.com/
01. Work Of Art – Framework, 2x LP
02. Nocturnal Rites – Grand Illusion, LP
03. Nocturnal Rites – New World Messiah, LP
04. Kalida, 3x Patches
05. Within Silence, 3x Gitarren Pick
06. Millennial Reign – The Great Divide, 2x CD
07. Power Quest – Sixth Dimension, 2x CD
NEVERHEARD DISTRO - http://neverhearddistro.blogspot.com/
01. Age Of Agony vs. Witchcraft – Split, CD
02. Age Of Agony – For The Forgotten
03.Velm – Orkan, CD
04. Nemere – Vermezo, CD
05. Bloodrainbow – Upheaval, CD
METAL PROMOTIONS - https://www.facebook.com/metal.promotions
01. The Electric Coast – Warming Quilt, CD
02. Kult – The Eternal Darkness I Adore, CD
03. Burial Hordes – The Termination Thesis, CD
04. Shrike – Zeitgeist – Geistzeit, CD
H´ART PROMOTION - https://www.hart.de/team.html
01. Dirt Box Disco – Hooray! Hooray!, CD
02. Soft Machine – Hidden Details, CD
03. The Lonious Monster – Beautiful Mess, LP
04. Dilemma – Random Acts Of Liberation, LP
05. Bloodsimple – A Cruel World, LP
06. Marvin Gaye – Bierdeckel
07. John Mayer – Bierdeckel
08. Hot Shots Of Reggae – Bierdeckel
09. Sarah Elle Lachlan – Bierdeckel
METALVILLE RECORDS - https://www.facebook.com/Metalville/
01. King Kobra – Sweden Rock Live, CD
02. Werner – Das Rennen (Oginool Soundtrack), CD
03. Betzefer – Entertain Your Force Of Habit, CD
04. Cactus – V, CD
05. Ohrenfeindt – Tanz Nackt, CD
06. Foghat – Live At The Belly Up, CD
07. Luca Princiotta Band – Rough Blue, CD
08. The O´Reilly´s & The Paddyhats – Green Blood, CD
NRT-RECORDS - http://nrt-records.com/
01. Global Scum – Hell Is Home, 2x CD
02. Circle Creek – Past Presents Future, 2x CD
03. Circle Creek – Anger, 2x CD
POLYMATH PR - https://www.facebook.com/polymathpr/
01.Bones Of Minerva – Blue Mountains, 5x CD
02.Bones Of Minerva, 2x Einkaufstasche
---
CROSSFIRE präsentiert METAL CRASH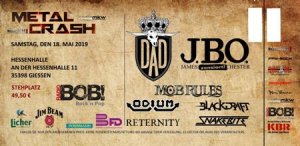 ---
CROSSFIRE präsentiert...DUISBURG GOES ROCK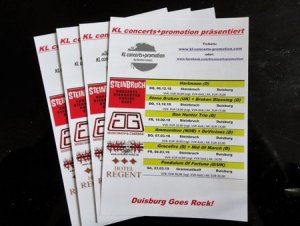 Das CROSSFIRE Team präsentiert eine ganze weitere Reihe des Promoters: KL concerts + promotion:
https://www.facebook.com/klconcertspromotion/
www.kl-concerts-promotion.com
Die nächsten Gigs:
Stone Broken + Broken Blessing (13.12.18) - Steinbruch
Dan Hunter Trio (15.02.19) - Steinbruch
Ammunition + DeVicious (07.03.19) - Steinbruch
Gracefire + Mid Of March (08.03.19) - Steinbruch
Pendulum Of Fortune (23.03.19) - Grammatikoff
be there...
---
DEMON HEAD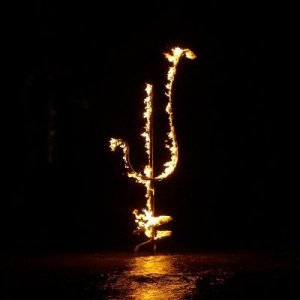 DEMON HEAD - Hellfire Ocean Void
VÖ: 22. Februar 2018
Svart Records/ Cargo
Demon Head spielen Diabolic Rock. Klassischer Heavy Metal - energetisch, roh, bedrohlich und bedient sich dabei aus den dunkelsten Ecken dieser Musikrichtung. Nach Gründung der Band 2012 eroberte Demon Head recht schnell die großen Festival Bühnen der Underground-Rock-Szene und gingen ausgiebig auf Tour. Mittlerweile hat sich Demon Head zu einer reifen Einheit entwickelt, die mit Hingabe und Intensität nun ihr drittes Album "Hellfire Ocean Void" veröffentlichen.
Dunkle Akkorde, mystische Gitarrenriffs, prägnante Drumbeats zusammengehalten von prophetischen Texten. Das Album entstand im Winter 2017-2018 während der Aufnahmen in ihrem eigenen Analogstudio. Dadurch gab es keinen Zeitdruck und man konnte sich so lange man wollte in eine Art Isolierung begeben um das Album zu perfektionieren. Einziger Mitstreiter bei den Aufnahmen war niemand geringeres als Produzent Flemming Rasmussen (Metallica, Morbid Angel, Mercyful Fate, etc.) der das Album im Sweet Silence Studios gemastert hat.
Mit ihrem dritten Album haben Demon Head ihren ganz eigenen Stil und Sound gefunden. Dabei bedienen sie sich gerne an den vielen Klischees und Traditionen der Rockmusik und bewahren sich ihre Integrität.
https://www.youtube.com/watch?v=m2tVkJFPkNY&feature=youtu.be
---
Seite 5 von 60